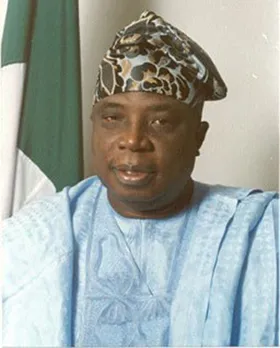 Prof Eyitayo Lambo's Profile
Professor Eyitayo Lambo, a Health Economist and Health Systems Expert, obtained both Bachelor's and Masters degrees in Economics from Nigeria's premier University, University of Ibadan, and the University of Rochester, USA, respectively and a doctorate degree in Operational Research (applied to health systems) from the University of Lancaster, United Kingdom.
He was awarded the Fellowship of Operational Research, England in 1986-one of the first Africans so honoured by that international professional organization.
Professor Lambo served in the World Health Organization (WHO) as the Regional Adviser for Health Economics, Health Sector Reform and Health in Socioeconomic Development in the Organization's Regional Office for Africa from 1990 to 1999.
While he was in the WHO, Professor Lambo introduced Health Economics into the work of the WHO in Africa and built/strengthened capacity in Health Economics in the WHO Regional Office for Africa as well as in WHO country offices in Africa before taking an early and voluntary retirement from the United Nations System in 1999.
At the Regional Committee of the Ministers of Health of the African Region held in Windhoek, Namibia in 1999, he received the award of the "most hardworking staff" in the WHO Regional Office for Africa- an award that was made for the first time by WHO's Regional Office for Africa.
Professor Lambo was appointed Director of the Change Agent Programme for Health Sector Reform in Nigeria, a health programme funded by the Department for International Development (DFID/UK) from October 2001 to July 2003.
In his capacity as Director of the Programme, he recruited over one hundred individuals of varying academic and professional backgrounds as potential change agents in the health sector who formed the critical mass of people that provided technical support to the development and implementation of Nigeria's first Health Sector Reform Programme, 2003-2007.
Professor Lambo was appointed Federal Minister of Health by President Olusegun Obasanjo in 2003 and served in that position for a full term of four years, making him one of the longest serving Ministers of Health in Nigeria to date. During his tenure as Minister of Health, the first Health Sector Reform Programme for Nigeria was developed and implemented.
The National Health Insurance Scheme was also launched after being on the drawing board for forty years. Many health policies and legislation were formulated during his tenure, including the hotly debated National Health Bill which was only signed into law by President Jonathan at the end of 2014. He also served as the Chairman of the Global Roll Back Malaria Partnership Board from 2005 to 2007.
Other achievements recorded during his tenure as Minister of Health include but not limited to:
The refurbishing and re-equipping of Federal Teaching Hospitals and the movement of 4 Teaching Hospitals from their temporary sites to their permanent sites that had been abandoned for over 20 years.
The development and implementation of the National Blood Transfusion Service.
Over 200% increase in the allocation of Federal Government's budget to health and over 250% increase in development partners' allocation to health.
The development of strategic plans with indicators for monitoring progress by Federal Tertiary Health Institutions (Teaching Hospitals, Specialist Hospitals and Federal Medical Centres) so as to enhance efficiency and effectiveness in the use of the resources of those health institutions.
Professor Lambo has also served on many national and international committees and boards among which are but not limited to the following:
Chairman of the Scientific Advisory Committee on Stewardship for Infectious Diseases of Poverty of the Tropical Diseases Research/WHO/Geneva;
Chairman of the Governing Council of the National Health Insurance Scheme;
Vice-Chairman and later Chairman of the Ad Hoc Committee for the implementation of the Affordable Medicines Facility for malaria (AMFm), a global initiative to make the prices of Artemisinin-Based Combination Therapies (ACTs) affordable to people in malaria-endemic countries, including Nigeria;
Member of the Board of Directors of Medicines For Malaria Venture (MMV);
Member of the Global Health Worker Migration Advisory Council;
Member of the Ministerial Leadership Initiative for Global Health;
Member of the External Reference Group for WHO Research Strategy;
Member of the Global Health Worker Alliance Financing Task Force; and
Chairman of the Board of Trustees of Isanlu Health Development Fund in Kogi State that has undertaken many activities to improve the health of members of Isanlu community and thereby take them out of poverty.
Professor Lambo was invited by the Dean of Harvard School of Public Health to serve as a member of the Expert Resource Group for the Harvard Ministerial Forum on Health Finance for: Ministers of Finance, 21-24 April, 2013; Ministers of Health, 2-6 June, 2013; and Ministers of Finance, 6-9 April, 2014.
Professor Lambo is happily married to Dr.(Mrs.) Esther Olufunmilayo Lambo and they are blessed with four grown up children and nine grandchildren.