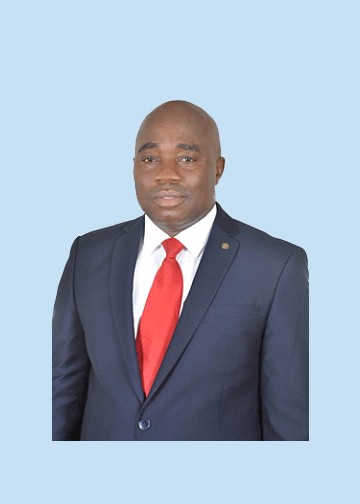 Mr Temitope Mark's Profile
Secretary, Board of Trustees
Mr Temitope Mark is a native of Odo-Eri in Yagba West LGA of Kogi State. He was born into the family of Late Chief Mark Oni Owa Balogun and Late Mrs. Dorcas Igbe Owa on 13th of January 1969.
Mr Temitope graduated from Department of Accounting, University of Lagos in 1991 with a B.Sc. (Hons) degree in Accounting.
Mr Temitope holds a Masters degree in Business Administration.
Mr Temitope is currently the CEO of Graham Bridge Financial and Consultancy Services Ltd - an Accounting/Financial Consultancy (Asset Management} Company headquartered in Lagos State with operational base in Delta State.
Mr Temitope belongs to several professional bodies. He is a Fellow of the Institute of Chartered Accountants of Nigeria having qualified as an Associate Member of the Institute in 1997.
Mr Temitope is also a Fellow of the Institute of Management Consultants of Nigeria and International Council of Management Consulting Institute. Again, Mr Temitope is an Associate Member of the Chartered Institute of taxation of Nigeria.
Mr Temitope over a span of 23 years (1991-2014) acquired significant experience in the field of banking covering virtually all aspects of the profession.
Mr Temitope's work experience dates back to year 1991 when as a fresh Accounting graduate, he undertook a year mandatory National Youth Service program with the Central Bank of Nigeria, Sokoto Branch.

Mr Temitope subsequently joined the service of Allstates Trust Bank Plc (1992-1998).
Mr Temitope served in different capacities at Standard Trust Bank Plc from 1998 to year 2001 when he functioned amongst others as the Group Head Customer Services covering the entire South-South geo political Zone.
Mr Temitope had another 7 years stint with Devcom Bank Ltd/ Equatorial trust Bank Ltd between year 2001 and 2017 where he also functioned at Senior Management level having business development responsibility across South-South Zone of the bank.
Mr Temitope joined the services of United Bank for Africa Plc in year 2007 and functioned at Executive management capacity. He was the Regional Bank Head of the bank in Delta State having supervisory role on over 60 branches till year 2014.
Mr Temitope resigned at the grade level of Assistant General Manager to Private Accounting Practice and Financial Consultancy Services/Asset Management in August 2014.

Mr Temitope's experience covers key divisions of banking such as Operations, Auditing, Marketing, Relationship Management, Financial Controls etc.
Mr Temitope distinguished himself at several times/occasions and won several awards. He is well travelled and has been exposed to several trainings and courses in leadership, customer services, management, strategy and business development in Nigeria and Abroad.
Mr Temitope is very humble, focused and highly dedicated to duties. He is a man of high integrity, unquestionable character with great capacity for accuracy.
Mr Temitope is a passionate team builder driven by success and excellence.

Mr Temitope is married to Mrs. Marvis Omamuyovwi Mark and blessed with 6 children.