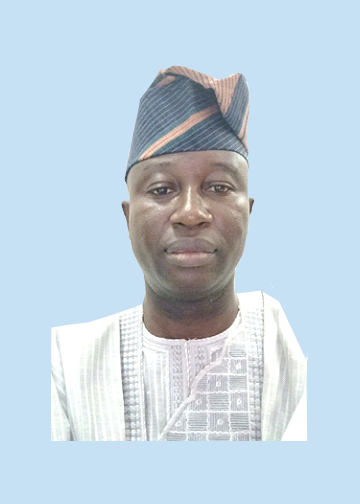 Mr Ayodeji J. Titus's Profile
(Chief Superintendent of Police)

Member, Board of Trustees
Mr. Ayodeji J. Titus was born in Akata-Ere, Yagba West LGA of Kogi State.

He obtained his primary and secondary education at Oyi Local School Management Board Odo-Ere 1979-1984 and Okutadudu High School Odo-Ere 1985-1990 respectively.

He holds a B.Sc. Political Science degree from Ahmadu Bello University, Zaria 1992-1998 and MSc Political Science, degree Obafemi Awolowo University, Ile-Ife, Nigeria in 2008.

He was recently appointed as the Principal Staff Officer to the Chairman Police Service Commission, Alhaji M.A.K Smith IGP (Rtd) fwc. He has served as a Cadet Assistant Superintendent of Police, Nigeria Police Force, Nigeria Police Academy (POLAC) Wudil, Kano 2002-2004.

He subsequently held several positions such as Divisional Crime Officer (DCO), Divisional Traffic Officer (DTO) and later the Chief Security Officer to the Governor of Osun State; His Excellency Olagunsoye Oyinlola 2005-2009.

He was redeployed to Ondo State as the Aide-De-Camp (ADC) to His Excellency Dr. Olusegun Mimiko 2009-2015. Mr Titus has served as a Mentor and Training Officer with the African Union Mission in Somalia (AMISOM) 2016-2017.

He was a Staff Officer Administration at the office of the Force Secretary, Force Headquarters Abuja and Head of Liaison Desk, Police Service Commission, Abuja.

He excelled and won several laurels, badges of recognition and honours throughout his career.

Mr. Titus has played various roles in ECWA Church Odo-Ere, Restoration Assembly ECWA Yoruba Section, Kano and as a Pastor in the Redeemed Christian Church of God, Abuja.

He is a member of several international and local professional bodies, prominent among which is the Nigerian Institute for Peace and Conflict Resolution (National Peace Academy) and International Association of Chiefs of Police.

He is happily married to Veronica and the union is blessed with wonderful children.