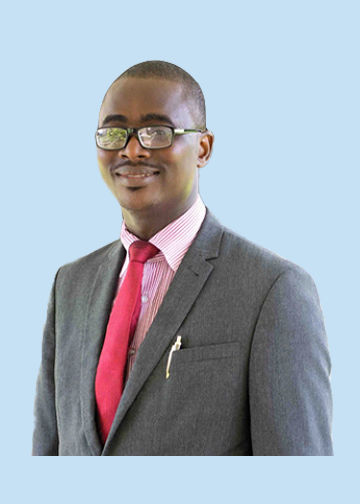 Dr Ekundayo Samuel's Profile
Executive Director and Chairman, BoT
Dr. Ekundayo S. Samuel is a native of Odo-Eri in Yagba West Local Government Area of Kogi State.
He obtained his primary and secondary education at Army Children School Bori Camp, Port-Harcourt, Rivers State and African Church Secondary School, Isanlu, Kogi State respectively.
Dr. Ekundayo holds a DVM and Masters in Biochemistry from the University of Ibadan, Oyo State, Nigeria. He observed his National Youth Service (NYSC) at the State House Veterinary Medical Centre, Presidential Villa, FCT, Abuja.
He is currently a PhD candidate with focus on cancer research at the University of Ibadan.
Dr. Ekundayo graduated as the best student during his secondary education and also got the ELF Petroleum Nigeria Limited National Merit Scholarship award to complete his undergraduate studies in veterinary medicine at the University of Ibadan.
He is a University of Ibadan Scholar for graduating with distinctions in his undergraduate studies (DVM). This offered him the scholarship to complete his master's degree in biochemistry (cancer research and molecular biology).
He is a 2017 Commonwealth Split-site PhD Scholar to the University of Bath, UK.
He has won other awards and grants including the Federal Capital Territory Minister's honours award (NYSC), the 2018 Dent-Young award, Royal Commonwealth Society (RCS) Bath and District Branch, UK, BSDB/CoB travel award, ASPET travel award, ASPET Mentoring Network travel award, award of Postgraduate College international conference grant, University of Ibadan, Graduate and Post-Baccalaureate Student international travel award.
He has also received certificate of merit and outstanding performance from the University of Ibadan on more than one occasion, letter of recommendation and commendation from the Institute of Human Virology, Nigeria.
He is a member of the 2020 class of the prestigious leadership program; CAS Future Leaders Program among 30 elite scholars from across the world. He is the first scholar from Nigeria to participate in this program since its inception in 2010. He is also the first scholar from any African university to receive the ASPET Mentoring Network Program award since its inception in 2016.
Dr. Ekundayo has several leadership experiences including:
Pioneer National Coordinator, Redeemed Christian Fellowship, University of Ibadan Alumni Association.
Founding President, The Quiz Club, University of Ibadan.
President, National Association of Odo-Eri Students.
Pioneer Students Coordinator, RCS Bath, UK
Graduate Teaching Assistant at both University of Ibadan and University of Bath, UK.
University Representative, Commonwealth Scholarship Commission, UK.
Program Manager, GYEC, Osogbo.
Member, Commonwealth Scholars and Alumni Association, Nigeria Mentoring Committee
Member, University of Ibadan Health Services Research Team.
Sales Manager (South-West), Bristol Scientific Company Ltd, Nigeria.
Dr. Ekundayo is a member of several learned societies such as:
Cancer Research at Bath, UK.
Biochemical Society, UK.
BSDB, UK.
RCS Bath and District Branch, UK.
SOMPED, South Africa
NVMA, Nigeria
VCN, Nigeria.
Commonwealth Scholars and Alumni Association, Nigeria.
ASPET, USA
SOT, USA
American Chemical Society and life membership of CAS Future Leaders Program, USA.
Dr. Ekundayo has been a Guest Lecturer to various organisations both locally and Internationally on several occasion.
He has publications in reputable national and international peer-reviewed journals, abstracts in conference proceedings and publications in Nigerian national dailies on cancer and cancer-related matters.
He is married to a resourceful wife and blessed with children.