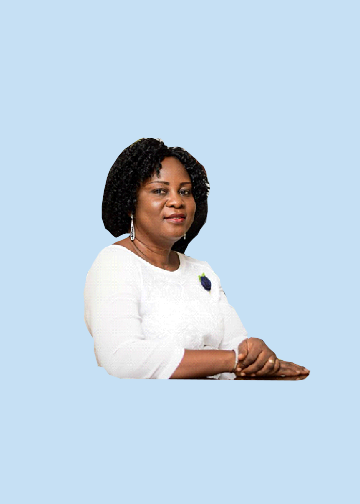 Dr Abiola R. Adimula's Profile
Liason Officer
Dr. Abiola Ruth Adimula obtained her Ph.D. in Peace and Development Studies from the University of Ilorin, Nigeria 2014.
She holds a LL.M of Obafemi Awolowo University, Ile-Ife, 2004; B.L of Nigerian Law School, Lagos, 1993; and LL.B., Ahmadu Bello University, Zaria, Nigeria, 1992.
She is a Principal Partner, Biola Adimula and Co. Salvation Chambers.

She was a Lecturer between 2011 and 2016 at Faculty of Law and presently a Lecturer at Centre for Peace and Strategic Studies, University of Ilorin, Ilorin, Nigeria; a Rotary Peace Fellow (Class 23) Chulalongkorn University, Bangkok, Thailand (2017), a Peace Ambassador, Institute for Economics and Peace, Sydney (2018) and a Member (Assessor) Association of Commonwealth Universities Grant Selection Panel, London, United Kingdom.
She was a Faculty/Guest Lecturer in February 2018 at the University of the Incarnate Words, San Antonio, Texas.

She was also in Murray State University Kentucky and Trinity University Texas, USA as Guest Lecturer (2018).

Dr. Adimula served as a Consultant, Senate Committee on Constitutional Review of Federal Republic of Nigeria (2016-2019); a Fellow of Commonwealth United Kingdom, Secretary Board of Trustees and the President of Commonwealth Scholars and Fellows Alumni Association, Nigeria.
She is the Publicity Secretary, Society for Peace Studies and Practice, Nigeria.

She served as Council Member, International Bar Association, 2010-2012; an Awardee of the International Bar Association, 2008; served as National Executive Committee and Council Member in different Committees and Fora of the Nigerian Bar Association, between 1997 and present; a Member and Trainee of Chartered Institute of Arbitrators, London, 2010.

In 2006, she served as a member of Review Committee of ECOWAS Youth Policy in West Africa; a member of the Review Committee of (Nigeria) National Gender Policy in 2014; and a Consultant to UNICEF on Child Rights, 2005.

Dr. Adimula served as the Special Assistant to the Executive Governor of Kwara State, on Women Affairs, between 2013 & 2015 and also as Senior Special Assistant to the Executive Governor of Kwara State on Women Affairs (2018-2019).

She is instrumental to the establishment and functioning of Family Court in Kwara State; Initiator/Coordinator of the Great Kwara Spelling Bee Competition; Executive Director of Women and Child Watch Initiatives (NGO), initiator and coordinator of Tsaragi Women Farmers empowerment scheme and the Project Director on Research and Welfare of Displaced persons in Nigeria.

She is married and blessed with children.