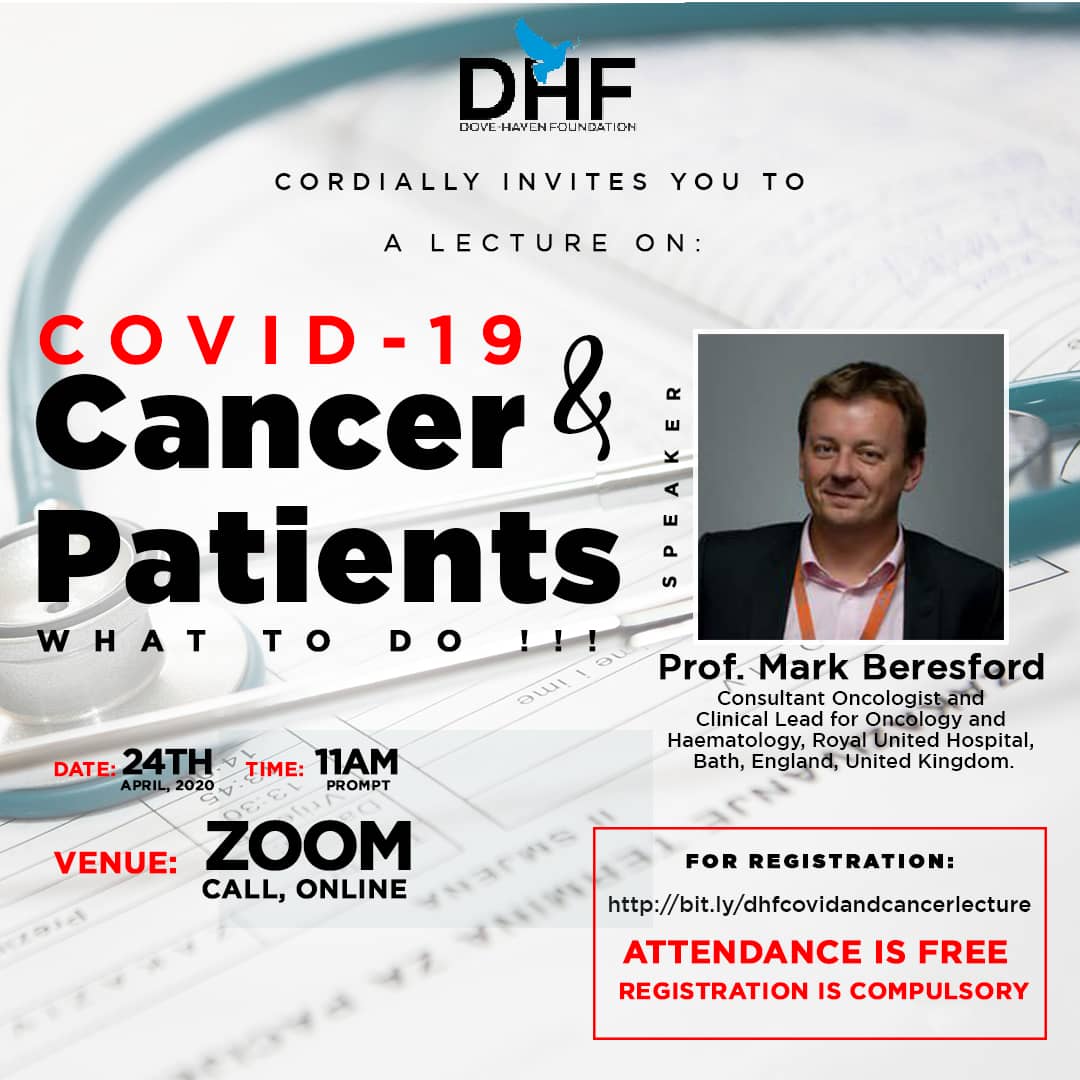 COVID-19: Cancer & Patients:
What to do!
REPORT OF THE VIRTUAL LECTURE ON "COVID-19 AND CANCER PATIENTS" TO COMPLIMENT THE "STAY AT HOME" ORDER
BY DOVE-HAVEN FOUNDATION ON 24TH APRIL, 2020
Dove-Haven Foundation organised a virtual public lecture titled "COVID-19 AND CANCER PATIENTS: WHAT TO DO!" to evaluate how the COVID-19 pandemic is affecting cancer patients from a global perspective.
The Guest Speaker was Professor Mark Beresford, Consultant Oncologist and Clinical Lead for Oncology and Haematology, Royal United Hospital, Bath, England, United Kingdom.
He is also a Technical Adviser to Dove-Haven Foundation and a front line expert in a country with one of the highest numbers of COVID-19 cases.
The trend and distribution of COVID-19 infection show that people with underlying diseases such as cancer are more susceptible to the disease.
Dove-Haven Foundation has risen to the challenge of increasing the overall survival of the population she represents through this lecture.
Prof Mark spoke about the measures that are being taken in their hospital on cancer patients for different levels of treatments such as chemotherapy, radiotherapy.
He said, despite the changes that this pandemic has caused, cancer patients in their hospital still receive similar care and attention just like the pre-COVID-19 era.
For example, cancer patients were moved out of the hospital to a well-equipped facility in order to reduce their chances of contracting the virus.
Special plans and measures are in place for those who are recovering from cancer and others who had recovered but still under monitoring. Patients under monitoring need not come to the hospital for their appointment rather the Nurses and caregivers attend to them at home while still keeping safe under restrictions.
There is also room for cancer screening especially for those that need it urgently.
Dr. Ishak Lawal, a consultant gynaecologist from Federal Medical Centre, Birnin-Kebbi who was at the meeting said 'cancer patients suffer double jeopardy from coronavirus: they are at increased risk of death from the disease and the response to the impact of the virus could possibly increase the spread of cancer thereby decreasing the survival rate.
He also mentioned that there is no solid evidence on how the changes in cancer treatment protocol due to coronavirus will affect overall survival.
There is, therefore, a need for proper record keeping so as to inform best practices post-COVID-19 pandemic.
The way cancer patients would be managed post the pandemic is likely going to change. Some traditionally held routines such as frequency of visits may change.
Also at the meeting was the Managing Director of Bricon Global Consult Limited, Mrs. Abigail Simon-Hart, who is a cancer survivor and the co-founder of Bricon Cancer Foundation.
Speaking from Lagos, she commended Dove-Haven Foundation and said the lecture is coming at the right time because the information from the lecture will help compliment what her NGO is doing to assist cancer patients.
Reacting, Dr. Ekundayo Samuel, the Executive Director of Dove-Haven Foundation commended the efforts of the health workers in Nigeria during this strange season of COVID-19.
However, he said, it is unfortunate, despite the fact that essential services are allowed during this lockdown period, many hospitals in Nigeria are not attending to cancer patients as pre COVID-19 era; possibly because the caregivers are also afraid of contracting the virus.
For those attending to patients, as usual, the cost of treatment is huge and not affordable.
Raising funds for them also at this period is difficult; as individuals, philanthropists, and donor organisations have shift attention to reducing COVID-19 burden.
This leaves no option for cancer patients than to die at home or fall back to alternative therapy. He also mentioned that before the COVID-19 issue started, the statistics was that, for every one hour, about ten persons die of cancer in Nigeria, these are people with proper records in hospitals.
Sadly, Nigeria does not have accurate data to show how many of her citizens have this disease or are likely to have it, in order to plan ahead.
He called on the Government not to relent in the fight against cancer and to establish a comprehensive National Cancer Centre or Institute in the country to deal with these challenging issues.